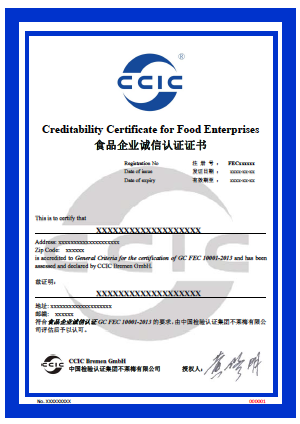 To be able to export food to China, every company must register with the CNCA.
The Standards of Creditability Certification of Food Enterprises is developed and exclusively offered by CCIC Germany in order to a successful registration with the CNCA.
Your advantages of FEC at a glance:
First Step into the Chinese Market
Our certificates ar high renown by the local authorities and ease a successful registration with the CNCA
Creditability
FEC rebuild the consumers' and regulators' confidence in food enterprises, and improve food safety awareness
Optimal Preperation
FEC closely incorporates the requirements of "The Registration of Overseas Manufacturers of Imported Food"

The audit, which will be undertook is legitimate and sincere and acknowledges quality administration as well as commercial creditability
CCIC provides the best service for your business in China!